Der Film Boxing Helena von der US-amerikanischen Regisseurin Jennifer Chambers Lynch beeindruckte ihn so sehr, dass der seine Whippetzucht nach ihm benannte. Doch so obsessiv wie der Chirurg Nick Cavanaugh an seiner Helena festhält, ist das Verhältnis des belgischen Züchters Bart Scheerens zu seinen Whippets zum Glück nicht. Ganz im Gegenteil, analytisch und mit sehr viel Weitsicht plant und erhält er seine ganz spezielle Linie, die ihm schon große Erfolge gebracht hat.
Im Ring oder am Ring – Bart Scheerens ist immer ein freundlicher Ratgeber. Geheimniskrämerei liegt ihm nicht und er spricht offen nicht nur über die Stärken, sondern auch über Fehler seiner Hunde. Da schon einige Artikel zur Geschichte seiner Zucht veröffentlicht wurden und sie jeder Zeit nachlesbar sind, konzentriert sich dieses Interview auf die Gegenwart und die Zukunft. Aktuell wartete er auf einen Wurf, der das Blut der Nevedith-Whippets erhalten soll.
Wie alle anderen ist auch dieses Interview in Englisch.
1.Your last litter was an outcross, that is pretty unusual for your Boxing Helena's. Why did you choose Rivarco Thunderbird to mate with Riva (Boxing Helena's Hilo Sunset)?
To say that this is unusual for a Boxing Helena litter, is not correct. In the past I did quite a lot of outcrosses. But the closely linebred litters have always been my most successful litters, not only in the show ring, but also in terms of the interest they have received from other breeders. So the most well known Boxing Helena dogs are indeed closely linebred dogs and that is perhaps why you think all of my litters have been linebred.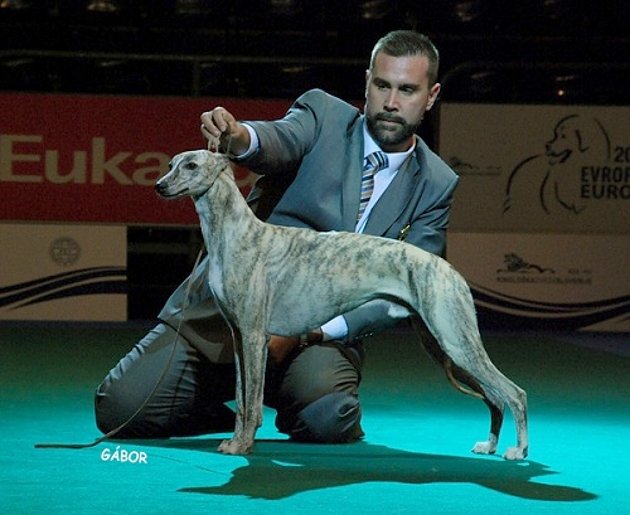 Actually when you look more closely at the pedigree of the litter of Rivarco Thunderbird (Terrence) and Boxing Helena's Hilo Sunset (Riva) you will find I actually did not deviate from the basic bloodlines and type I prefer. Choosing an appropriate stud dog requires consideration of many factors, and sometimes it takes years to think through the possibilities.
When we look to Terrence, you will find that Adagio Love Supreme (Robbie), his father, is one of the most important stud dogs in the last decennia and proved to be very strong in passing on his qualities. I was always impressed by him and his offsprings, and note that both his parents also proved to be great dogs and producers. His mother Rivarco Arwen is another top winning bitch who caught my eye from the time I first saw her, and her sire, Dumbriton Casting Stone (Oliver) for a long time was a dog I thought to use in my own program. Her dame Rivarco Gazelle was also one of the great Rivarco bitches in the past decades.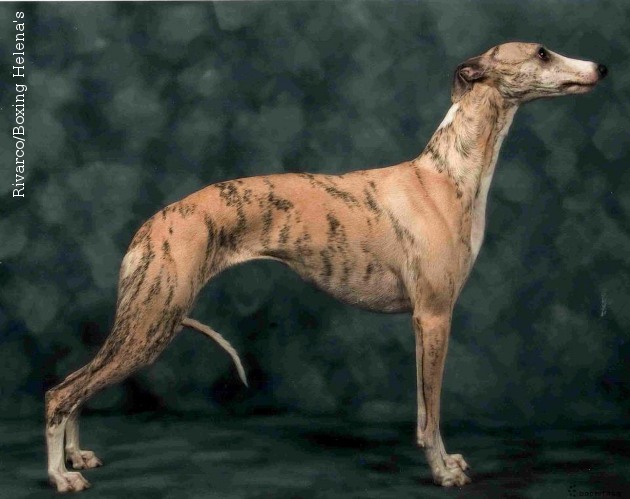 So when I saw Terrence for the first time as a junior dog I asked Mauro Perna to tell me more about him because he impressed me. He told me he was the son of Robbie and Arwen who had just won the junior world title. I'm not very often impressed by dogs as much as I was the first time I saw Terrence. So I knew I wanted to use him from that moment on one of my bitches.
For Riva who combined my two most important lines (from my X and Y litters) could, I was convinced, use a male with new bloodlines. Looking at the good and bad qualities from Riva and knowing the quality of Terrence, I believed they could complement each other very well. In my earlier Kode-litter, which also was an outcross, I had already thought that Adagio My Culture, who was Robby's son, fitted in very well with my bloodlines. So for me the picture was complete, and I was confident about using Terrence.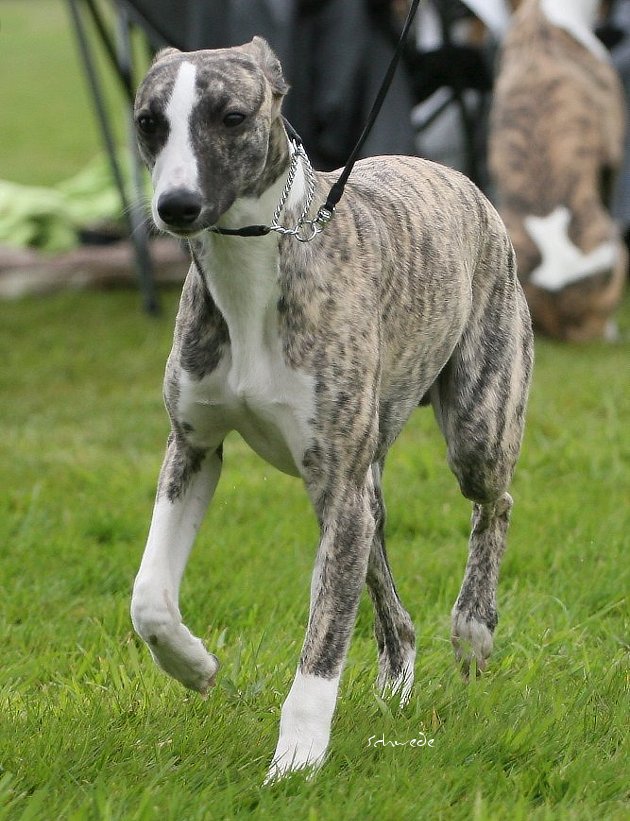 In using a stud dog so many things are important. I think it is really important to have seen the actual dog in real life, and if possible, his parents because that is where you can form a far more accurate picture of what a dog is likely to offer you in the whelping box. Pedigrees on paper may look good, but there is no substitute for knowing, seeing and going over the stud dog and those that produced him, where at all possible.
I refuse to choose a male simply on the basis he looks good in a picture, or simply because he is doing well in the show ring. That is pretty superficial and yields no clue as to what he is likely to produce in the whelping box. That is why as a breeder I consider it as critically important to work with a foundation bloodline and move out from there. The longer you work this way, the more experience you get, the more dogs you will know for what they pass on and what they do not, and the less unhappy surprises you will have in your litter.
2. Nevedith Rare Rogue will rise up from the dead, when you will bred Liya (Boxing Helena's Epos Tesera) to him. It is a strong line-breeding project going back to Nevedith's Justa litter and of course their famous parents Pencloe Dutch Gold and Nutshell of Nevedith. Theoretically this litter has to be a bunch of perfect dogs! So what do you expect?
Well, first of all there is no guarantee of anything using frozen semen, and perhaps using it on a 7-year old bitch for her last litter may not in hindsight have been the best choice because fertility decreases as a bitch ages.
This said, what is a perfect puppy? Everyone has his own opinion about a perfect whippet (puppy). So I think a perfect whippet (puppy) is an illusion. But I think it is good we all have our own ideas about type, breeding and how to interpret the breed standard. What we are trying to do with the semen of Rogue is a "must-do" thing. His semen is stored in Belgium, because the intention is to breed as wisely as possible with his last semen. In Australia it was used enough, and here in Belgium, the UK and in Canada we have the strongest Nevedith lines assembled anywhere in the world.
Together with the Newtons in England who bred him, Rogue's final owner Noreen Harris in Australia and Lanny Morry in Canada we discussed potential future litters from him using the last of his semen. That's how we came to the conclusion to try to use it on Liya, breeding back to the double J litter. If there are pups whether they are perfect or not, they will be a treasure for our future breeding program for sure. And that's the intention.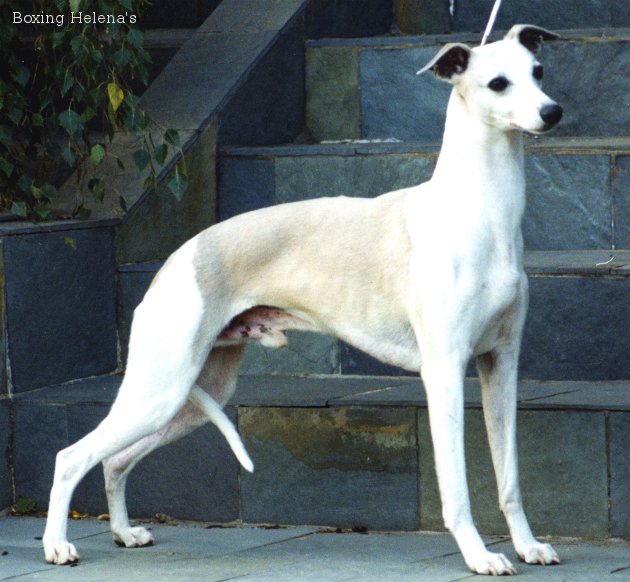 Again we return to the point of your first question, because it is a very close linebreeding, and it is interesting for breeding from down the line, not just for me but also for others. Serious breeders will know how to use these genes. I must say there is a big interest for this litter from all over the world, and here we are : If, I say," if" the pups are good and shown and used everyone will think again that Boxing Helena only breeds close to Nevedith.
3.Your whole breeding base goes back to the famous Nevedith whippets. What makes them so desireable?
I think as breeders we have to take a certain direction to go forward with, a certain type of dogs we love, and a certain way of breeding. The hardest part is finding your own way, the things you like and don't like. Over the past 18 years I have visited Crufts yearly, and I very well remember the first of those shows I attended. Every time I bought the catalogue I wrote down the entry numbers of dogs I liked as I watched the judging. In the evening I looked at who those numbers were — the names of the dogs, and their breeding. And almost every dog I liked was a Nevedith dog or one of his parents was from Nevedith. It was a very comforting feeling, to come back all the time to the same breeding and know I was seeing a definite type of dog and a definite level of high quality that appealed the most to me.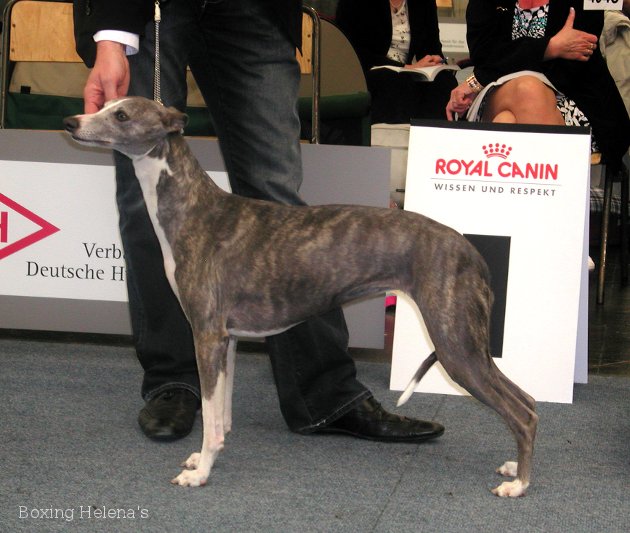 Looking back to my own breeding, choosing Nevedith as a base was the best thing I ever did. Because the bloodline is spread all over the world it is also easy to see and follow what others do with it, and with what results. Also at Nevedith they continue to breed whippets — it was 40 years ago this year since they made up Eng.Ch.Akeferry Jimmy at Crufts in 1972 – and they are fabulous mentors who have generously shared their knowledge and experience in whippets with me. I think that working together at the same goal makes it all so worthwhile.
I must say, however that it was never my intention to breed Nevedith-dogs in Belgium, but to breed my own thing from dogs epitomized by the type and quality I saw in the Nevedith dogs I admired. And as I look back I have certainly never gone very far away from those basics.
Again, I must repeat that knowing – as in seeing, going over, having a clear appreciation of – almost all the dogs in my pedigrees, means there are very few unhappy surprises in my litters. So I thankfully find myself in a very comfortable situation that those who breed all over the map with no clear plan or direction will never know.
I see more and more advertisements with things like "all males entire" " heart checked " even new breeders think that writing " COI of 0,00 " is a positive advertisement. What this says to me frankly is it raises alarm bells. Is there something wrong in the bloodline they are trying to assure with would be purchasers, and what about a very low COI necessarily makes any pup in the litter better than any dog from a well linebred litter where so much is known about the line, the parents, the grandparents and the health within these lines?  Is the espousal of low COI  really more important than knowing a lot about your bloodline, or is it simply a defence for breeding a litter in which little is actually know about most of the dogs in the pedigree, what they will deliver, whether they carry health problems are prone to monorchidism or whatever?  I am not sold on these things I call the hype of the moment where breeders have little or no knowledge of the actual bloodlines they have used. Nothing beats knowing a line intimately and well, and building from that sort of sound foundation.
4.Talking about frozen semen – today bitches don't have to travel anymore to be mated with dogs from another continent. You just have to buy frozen semen if it is available. So why do breeders exchange their dogs and bitches and ship them all over the world, when – at the same time – they promote the whippet as a dog, that is extremely attached to his owner? Don't you think that this is a big contradiction?
First of all it is not so easy and cheap to get frozen semen. Secondly the chances of succeeding are actually far less than with a natural breeding. I'm not a fan of using frozen semen. It's right to say the whippet is very attached to his owner, but the whippet is also very adaptable to other people and other situations. I've sent quite a few dogs to other breeders for using and showing. The biggest problem was always myself. For the dogs it was never a problem. Not living in a new home, and not returning back home to me. I've had dogs from Nadine Savoie who lived for some months with me, and went back to her in France, and later they came back for some months again. Well, from the first moment they step into the house, they know exactly what to do, where to go outside, how to integrate back into my pack etc… never a problem.
Showing and breeding costs a lot of money, and if we can help each other out this way, why not? Last month I had to send Boxing Helena's Imenitni (Pax) to Australia, and I must say that was one of the hardest things I did. There is a different feeling sending a dog to Finland, Germany or Canada where you can get yourself in a day if you need to, than it is to send him to the other side of the world, where you are not able to get yourself in a day anymore. That makes it very hard. Also the paperwork and vet checks etc… made it very hard and cumbersome, as well as very very expensive.
As a breeder committed utterly to the whippet bred I want my very best dogs to be noticed and to be used, and that's one of the reasons I'm doing this. In those situations I try to think more to the fact the dog can do something for the breed, for the breeder and for my name, than thinking strictly with my heart. That will come later, when he is gone, feeling bad for days . I can tell you when I get pictures of Pax, laying very comfortable in the sun, my heart does break every time. Of course I don't send my dogs to everyone, I do know the people I send them to very well. I trust them for 100 % and that gives also a friendship that will last forever.
5. Do you think a national title isn't enough anymore. Whippets have to travel around the world to collect as many international titles as possible to be able to compete with others?
In our "crazy" dog world, I think we can all fill in our own way of what we like, of what we think for ourselves what is important. For myself, and with the time, space and money I have, I try to get the best out of it. Whatever a dog wins, it is a win, and you must enjoy it. For myself I prefer to show my dogs in as many countries as possible. In your own country you are always with the same competitors in the rings. The same situation for the lists of top dogs. I don't care for that at all.
Last year Pax was top-winning sighthound in Belgium, which is nice, but it was never my intention or goal to win this. It is a very welcome extra, that's all. Let's be honest, the more shows you go to in the same year the more points you have. A complete year competing with the same dogs in just one country? For me an International Champion title is something that makes much more sense, and I'm also very happy when a dog takes a national title. When he has some titles in different countries he has proven he is able to compete under different judges, and with different dogs.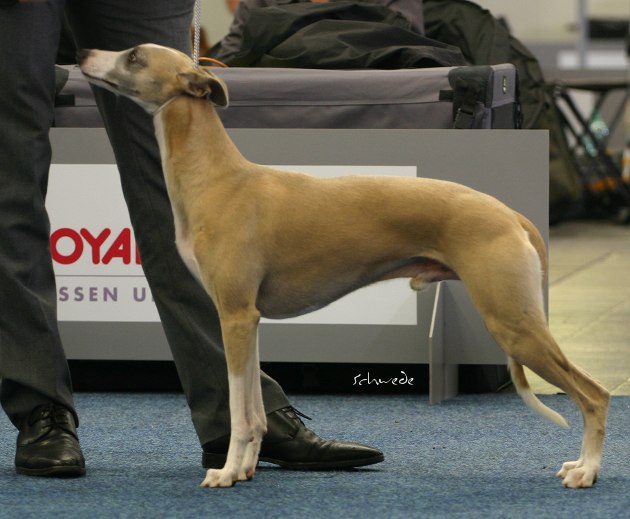 6. You surely heard of the "dewclaw-discussion" here in Germany. It is possible, that in the future it will be forbidden to show whippets without dewclaws in Germany, because the amputation after birth violates the animal welfare act. Your dogs don't have dewclaws. Why do you cut them off?
My first whippets did have their dewclaws but as they had sometimes problems with them when running in the forest, or at coursing meets. So I started to remove them. It was more elegant and it was much safer for the dog. A friend in Canada had a greyhound with dewclaws not removed by the breeder and its foot got caught in a coursing line because of the dewclaws and the dog needed a very expensive surgery to repair the damage to its leg. Another dog, a whippet imported from Denmark where dewclaws may not be removed, scratched its face and tore its upper eyelid with a dewclaw resulting in another vet bill.
Frankly I think dewclaws are unsafe in racing breeds such as sighthounds and the removal at 2 days of age is easily and painlessly done. But if it is forbidden of course I will leave them on my pups. I will however worry about the possibility of injury, and I hope judges will not be so foolish and to punish a dog for having a dewclaw or not because the removal is not for cosmetic reasons at all, but totally practical reasons. It is not like we are docking tails or cropping ears or doing some of the major surgeries still carried out in some breeds purely for aesthetic purposes – to make a dog 'pretty' or 'handsome' in the eyes of the owner. In the case of dogs like whippets and greyhounds I really do believe dewclaw-removal is essential to avoid genuine medical problems that may arise as they run through grasses and woodlands.
7. Is Germany an important place to show your dogs or could you easily live without it, if there will be a ban for whippets without dewclaws?
Germany is not the most important place for me to show, but it would be a pity if I couldn't show there anymore. And besides, I already said this in the previous answer, I will show my next generation in Germany as I intend to leave their dewclaws on.
8. As a breeder and a judge you have your very special idea of how a whippet should look like. What are you especially looking for, when you are judging?
First of all the overall quality, the overall "look" of the dog. The movement is also very important. And no exaggerations. A whippet is a sound dog with no exaggeration. That's what the standard asks for. This is for its outline but also for its movement. Some seem to have the view that moving the whippet faster in the show ring is better because it shows its reach better. But it is often used to mask and hide a lot of poor movement faults. I think racing whippets around the ring is just as wrong as walking it too slowly around the ring where it short steps rather than moves with the flow we associated with a good moving whippet.  How longer he reaches is not necessarily better, just as little short steps is not good either. A whippet should have a good reach and drive, but that's it. But it should be moderate, not too much and definitely not too little so it takes many steps covering very little ground.
I like a clean flowing line, with enough length of body, and a well laid croupe . The whippet should combine elegance and power. Those are the two most beautiful things about our breed, the proper combination of those two. But here we have to be careful because with "power" I don't mean bulky muscles, it has to stay elegant .
I know the whippet is not a "head" breed, and I never cared for it being so considered but I think here in Belgium and also your country we see elegant heads. Since I began judging whippets in different countries, I noticed it is not a normal thing to have good heads and that is really unfortunate. So also in my view the head must be elegant, with enough space between the ears, a well filled muzzle, well set eyes, and good underjaw with well placed teeth.
9. You are concentrating more and more on judging. So you have a pretty good impression of the quality of whippets in Europe. What do you think are the main structural problems at the moment?
As I said before, sometimes heads I have seen worries me in some countries. I know, the whippet is not a "head" breed and it is just a little detail but I think it is important they don't have thick stuffy necks and broad heads like bulldogs at the same time. Although some may think that dark eyes and a long neck is enough to have a beautifull whippet, but I'm not sharing that view at all, let's be clear about that.  Too round muscles, too bulky bodies are attributes I see more and more too.  That is not the way a whippet should be. But my overall impression is not the one of problems, because I think that our breed has a very high standard in almost all countries these days .
10. Even though there are lot of whippets around, the inner circle of breeders and judges is very small. How difficult it is for you to stay objective nevertheless?
As a judge you mean ? It is far easier than you may think. In the end you have to feel good about what you did. I want to go home with a good feeling, and so everything I do in the ring, I can give an explanation for. Of course I do know lots of dogs and lots of people in the breed, but that doesn't make any difference for me. From the moment I start to judge, everything near the ring and near the dogs falls away, I am only focused on the dogs, and that's how I want it to be. I am not interested in putting up the faces owning or showing the dog… my focus is entirely on the dog and my interpretation of the breed standard as I see it reflected – or not – in the dog I am examining.
Thank you very much, Bart and good luck for your next litter!
edit: Not everybody has an account, so I collected some comments that were made on facebook.
Nika Zivec, Slovenia: Very good interview.! A lot of good information passed on in good written english. Thank you for posting:)
George Guba, Jaama Whippets, USA: Bart, I enjoyed reading the interview and hearing your views. Karla, Thank you so much for bringing these interviews to us.
Noreen Harris, Bonnymead Whippets and Beagles, Australia: Great interview Karla & Bart. I really enjoyed reading it.
Tamara Howarth, Taraly Whippets, France: Great !! I enjoyed it a lot !! Super work Karla and Bart !! BTW I do fully agree with you regarding the COI thing 😉 I mean about the 0% COI that is 😉
Bart Scheerens, Belgium: Tamara, this is only what I think about breeding . Everyone has his own ideas, and it should be like that. In one of the answers I wrote " notthing beats knowing a line intimately and well…" this takes time and study. I choose to continue with mostly Nevedith lines but I do remember what pedigrees I studied . When I started I studied most of the pedigrees of Jackie 's Du Manoir De La Grenouillere dogs. Amazing what I could learn from this. I think we started with looking at the same pedirees 🙂 Until today I still think she is an extremely clever breeder, and from those breeders and pedigrees people can learn . Integrading new blood and still breeding the same dogs, the same type, I can only try to learn from breeders like that, and I think we have in this way the same "mentors" to look up to . 🙂
Katja ter Beek, Delirious Whippets, Netherlands: I enjoyed reading it. Alway nice to read about other breeders point of view.
Crème Anglaise Whippets, Netherlands: Bart respect for your opinions, a good breader stays true to his own opinions and does his best to breed the dogs he likes to see and work towards improvement of those lines. Furtermore we fully subscribe to the idea that it takes more than 2 beautiful and scoring whippets to breed a good litter.
Mauro Perna, Rivarco Whippets, Italy: I met Bart some 15 years ago and have respected his opinion and job since. Winner or loser in the ring he is known for his politeness….a very very rare gift in this sport, and we all know the difficulties he had to go thru to make his mark in our breed. I was always grateful for his huge consideration on Arwen and Gazelle, during the peak of their careers, not after…..that's to easy to do. Kudos to Bart and his relentless dedication to our breed!
Sylvia Granlund, Norway: Great interview! You have lots of well thought through opinions about breeding, and I really enjoyed reading them. I'm Learning more and more about the breed as time passes by 😉 Quite a few good take-home-messages that can easily be applied to breeding other breeds as well 😉 thanks for sharing and all the best of luck for your upcomming litter!