Welcher Züchter träumt wohl nicht davon, dass eines Tages ein World Supreme Champion aus seiner Zucht hervorgeht. Den Weltsieger gleich aus dem ersten Wurf picken zu wollen, ist jedoch ein wohl viel zu hoch gestecktes Ziel. Tamara Howarth hatte dieses Ziel noch lange nicht vor Augen, als sie 1996 in Orly-sur-Morin, östlich von Paris, einen kleines, rabenschwarzes Whippetbündel in ihre Arme schloss. Spike, Taraly Melcolm X, sollte 5 Jahre später in Portugal Weltsieger werden. Was für ein Auftakt für eine Zucht, die heute für exquisite Whippets aus Frankreich steht.
Ich möchte Tamara Howarth, Taraly Whippets, herzlich für ihre fantastische Zusammenarbeit danken. Trotz eines Kankenhausaufenthaltes hat sie mit unsäglicher Energie, beeindruckendem Sachverstand und viel, viel Humor an diesem Interview gearbeitet. Das Titelfoto zeigt den wunderschönen Multi Ch.Taraly Stairway to Heaven, fotografiert von Kirsi Aalto.


Tamara, Taraly Malcolm X is the one and only entirely black World Supreme Champion ever. Do you think, that black whippets have to be even better than theire lighter, "flashier" relatives to win such a titel?
Yes he is the only one so far, let's hope for some mor ! No, I don't think black whippets have to be better. I think they have to be just as good as the others. The only point is that sometimes the marking in particolors can help to somehow hide some faults eg on the shoulder the marking can sometimes compliment the angle. On a solid black this is not possible, every fault can easily be seen. A good whippet has no colour but anyway generally speaking to win great achievements I believe the dog needs to have that extra spark that makes the difference. No difference if it comes in brindle, fawn, black or blue ….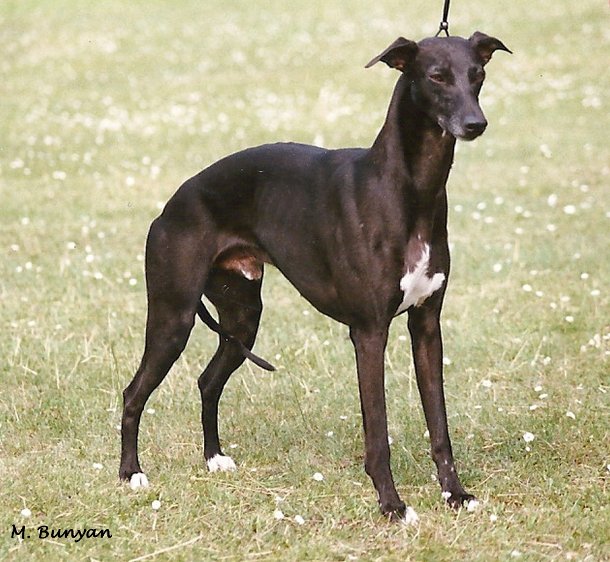 Looking at Malcolm X we (1996-2010) see a very classical whippet with moderate angulations. In comparison to the modern show-dogs of today, do you think he could still win in 2012?
That is very true he was very classical in his lines although I sometimes heard he was over exaggerated in his days, things change I guess… Well Spike was something special for me. I must tell you a bit more about him to understand.He was born in my very first litter out of my very first whippet, Eddy Love's Huckleberry "Mimi", a solid blue. I didn't know anything about the breed at that time except that their character and physical appearence was appealing to me. Mimi was a cross from racing lines from her dad's side and her mum was totally English showline bred. Mimi's mum was a granddaughter of some famous English dogs eg Ch. Charmoll MacTavish, Ch Samarkands Sigma, Ch. Savilepark Sweet Harmony and also with some Ch Akeferry Jimmy one generation further. Mimi was the one with who I began to learn, I showed her, raced her, coursed her with some good results which made her "Sujet Recommandé for the CFW" (French Whippet Club), something comparable to the "Schönheit und Leistung" title in Germany.
When I got her, I began to read everything possible about the breed and tried to get every informations possible. At that time several people came to me to say how lucky I was to have such a pretty bitch in that colour but that I shouldn't breed from her as blue and black is no good, bad tempered, bad conformations etc.. Well that was something I couldn't understand. I always understood that the goal of breeding was to try to improve the breed, I also understood that colour was immaterial in the breed so why should some colours be left on the side ? That was total non sense for me !! And then I thought… well don't challenge me!


At that time of course there were some blacks, talking mostly about Europe and England. Most of the European ones were from racing lines and the English ones came from very specific black lines. That didn't appeal to me a lot. Black being a genetically dominant colour I didn't really see the point in "seperating" the blacks from the others so I decided that I would breed Mimi to a dog that I liked, whatever the colour was. I also began to know more which types and bloodlines I liked. I finally decided for the young and striking Jake du Manoir de la Grenouillère. A super mover with the type I liked. He was a son of the USA import Ch. Normandy Social Standing (strongely linebred on USA Ch Saxon Shore Amber Waves) and of the exquisite Ch Enza du Manoir de la Grenouillère, herself English bred with a strong connection to Ch Charmoll Mac Tavish. Once the mating done I had just one dream: a black bitch. I didn't even consider keeping a dog, no way!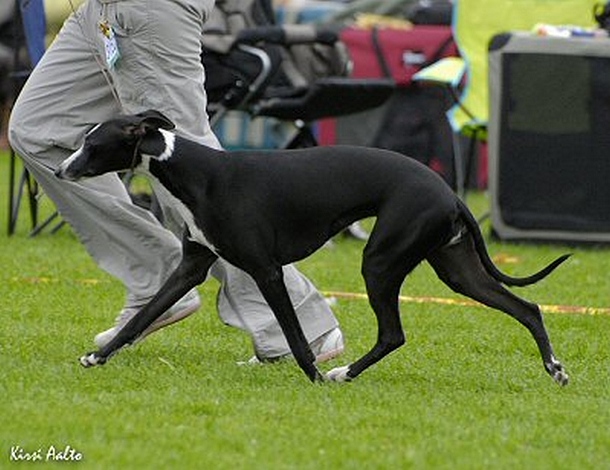 Then when the litter was born, I had what I wanted: 2 solid black dogs, one black and white parti dog, one solid black bitch, one black and white parti bitch and two brindle girls with white trim. Then don't ask me how or why but the magic happened: I fell in love with the stronger of the black males and one of the brindle girls. But God, that black dog had something special. Day after day the connection between us became stronger and stronger. I remember he used to come and sleep in my arms with his head on my neck. He really stood out and had pretty much a "here I am" attitude that nobody could denie.


From that moment I knew our fates would be linked. So I kept the dog "Spike" Taraly Malcolm X (a good name I thought to represent the coloured whippets) and the bitch "Moïra" Taraly Made In Heaven. No wonder that today all my whippets are linked to Mimi and either Spike or Moïra or both.Coming back to Spike, I had expectations for him but honestly I would never have dreamt of what was going to happen with him. I thought this would take me more than one generation. The thing with Spike is that our connection was so strong, that we could have climbed mountains together, I had so much faith in him and he knew it !! So to answer to your question, although it's hard to answer I will go for a Yes because first there are enough judges in the breed for all types, classical or modern type, and then because of that faith I had in him. He was a stallion like and used to look at the judges like thinking "hey I am the only one to look at come on". Sadly Spike passed away in 2010 and just a few days ago his sister left us. I don't have enough tears to express how much I miss them.


In Germany the color black is strongly connected to race-lines. Did it ever happen to you, that judges had prejudices against your black showdogs?
Unfortunatly it did happen … but only a few times. Very rarely some judges just won't look at the dog if it's a black or a blue. I have a funny story about that. When I first entered Spike in Open Class at a CACIB show in France the judge, who I won't name, had a look at him on the table and began his critic for the secretary like that "Blue dog". I said "Sorry Sir he is black". The judge just said "Yes Black Blue whatever it's the same" which really said it all !! Spike got VG that day ! Then about 8 years later I meet that judge again at a ringside. We start to chat together with a couple of other people and then he says to me "Oh your black dog what a dog !! I have always admired him !!" and then I said "No you gave him VG the only time you had him in the ring",he said "No way that's impossible" and never admited he did but I have a good memory …. He did !!!
More seriously a good judge, breed specialist or allrounder don't see the colour on a dog.
There are just very few breaders (Sportingfield, USA, Petrezselyem Projek, Hungary) in the world who prefere black or partly black whippets. What do you think may be the reasons?
There are few that's true but very dedicated to what they do, and this all around the World. In Australia Colin Sarantis (Ibiza) is also doing a great job as well as a few others there. In the US and Canada there are more than a few (Sportingfields, Snow Hill, Shamasan, Lightfall, Forget Me Not just to name a few) and there are several National Specialty BOB and BOS black winners as well as Westminster winners. In Europe you have just a few, Petrezselyem Projekt in Hungary, Lazarus and a few others in Poland. In Scandinavia you also have a few including Mimi Chills with their fondation bitch coming from me Ch.Taraly Black Panther. In England there have always been quite a lot of blacks as I wrote above. I can say that once you have black you will stick to it because I don't know how to explain about it … there is something special about them.
I can also say that the popularity of blacks among show people is much rising, they are on popular demand. Several people who are showing with some success "non blacks" (let's say it like that) have told me they would love a black so wait and see in a few years !! About the others well I don't know, some probably don't like it and maybe, as it's a difficult colour to breed, some don't want to try the challenge.


Except of Spike your most successful whippets such as Mojo (Taraly Stairway to Heaven) aren't black. So dispite your aim to breed solid black/blue whippets you concentrate on the principle, that a good whippet has no color?
Exactly !! The conformation and temperament is predominant for me. I don't do colour breeding. If I did so I would have bred black to black or to blue but I am not interested in that. I have my ideal image of the breed in my mind and I try to get close to that and that is all. If it's a black it's a big bonus that's all. The only thing with black compared to brindle and mostly fawns is that as a genetically dominant colour you can easily loose it. If you keep just brindles or fawns there is no way for you to get a black again except using a black or blue stud. It's different from fawn which as a genetically recessive colour you can get in every litter or so as long as the sire and dam are carriers, which is often the case.
In nearly 16 years you had just 13 litters with mostly outstanding quality. Under wich aspects you choose the mates?
Well thank you but in fact not all have been successfull! But I believe it's the price to pay when you learn, it's only with experience that you learn more in which direction to go. Generally speaking I first consider my whippet bitch I want to breed from, her qualities and her faults too, trying to be the most objective possible. Then I try to find a male who will compliment her. The pedigree is also a very important part for me. It doesn't have to be tightly linebred to my bitch but it has to be based on bloodlines I like, with some dogs behind that I admire. I also have a close look on siblings and eventual progeny. Conformation, movement and temperament are the keywords to me. Then finally but probably the most important part for me: feelings. I do work a lot on feelings. I must "feel" this combination. I can be wrong, everybody can do some mistakes it's part of Human nature, but at least I would have done it my way !!


Adagio Love Supreme plays a big role in your breeding plans. What do you estimate the most at this dog?
Yes he does. I first saw him in flesh in 2003 at the DWZRV CAC show in Gelsenkirchen held the day before the World Dog Show in Dortmund where he and his litter sister, Multi Ch Adagio True Love, both won. Nothing to do with the winning but they did really impress me, and, at that time I must say especially his sister "Saffie". From this moment I knew I had found what I was looking for as " next step" after Mojo (Multi Ch Taraly Stairway To Heaven) and Mia (Taraly Seventh Heaven) who were about the same age and were already a good step for me to getting closer to my ideal. Then you can imagine how amazed I was when Stefan called me some months later to ask Mojo for stud for Saffie! I already had the idea of mating Mia to Robbie then so it was just totally unreal to me.
Well time proved I was right concerning Robbie, who not only became a Top Winning Whippet including in the UK where he took his title in 3 shows in a row, but especially as a stud dog. Knowing more from him years after years and having the chance to meet him several times I just got more and more convinced. To make it simple Robbie has it all (or almost): super conformation, super movement, super sweet temperament that he throws in his puppies and not to forget he also proved his skills on the lure coursing fields. What do I estimate the most? Well … all!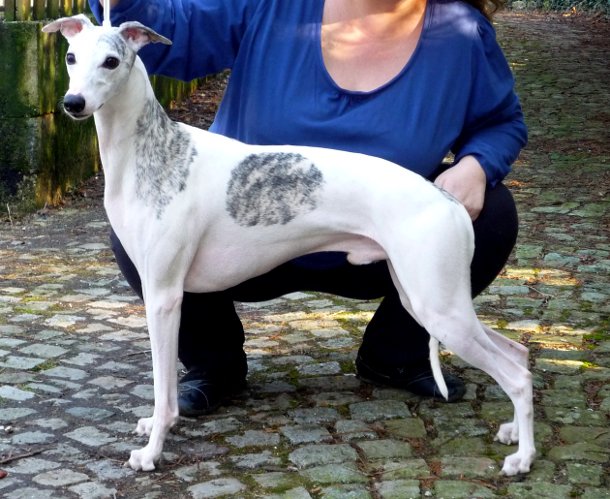 Your E-Litter brought up the beautiful Maya (Taraly Endless Love) and Rico (Taraly Enter the Light). Are these dogs the goal you were striving for.
Well they put me one step further, for sure. It's funny as they are both a bit different. I would say Maya is more the type I do really like but Rico has a charisma and a look that you just can't denie and this since he was born. And they have the most loveable temperament. None of them have been shown (due to my health problems) so far, so most of the readers will probably think what dogs is she talking about? But for me the winning doesn't make it all, far from that. The living proof of that is their dam Mia. Mia is Mojo's litter sister and although she was somehow overshadowed by her litter brother she has done her part of winnings with non less than 14 CACIBs and some Group winnings as well.
The fact is that she was quite hard to handle on a ring, she didn't want so much to be stacked, so I had to free stack her. She missed one CACIB in a 3rd country to become an International Champion but as she became more and more bored of showing she only got maximum RCACIB everytime I went in a 3rd country. Well at the end she was so unhappy with the showing that I decided to stop and let her live happily at home. After all you know they are mostly our pets and cherished companions so I certainly didn't want to make her unhappy. She also became twice RCACS at the French Championship Show and at the French Specialty (Vice French Champion) and she had one chance to become French Champion but then again she failed on the lure coursing part. Although she was and still is (together with her young nephew Kane, Collooney Frankly Kane) the best hunter I have at home (she catches flying birds), as long as she realized lure coursing was just with a plastic lure she was not interested anymore. Nothing to do about that!
Coming back to Maya and Rico, well, Maya is really the next step to Mia, same type with a touch a her daddy. Somebody wrote me, that seeing Rico she knew he was by Robbie. I do personally believe so but he also has a touch of USA Ch. Sportingfields Jazz Fest in him too and so is another nice bother "Xander" Taraly Everyday Sunday, owned by a friend of us, Céline Descrambes. Although shown by an unexperimented novice Xander have had nice results with 2 CACIBs and one RCACIB to his credit.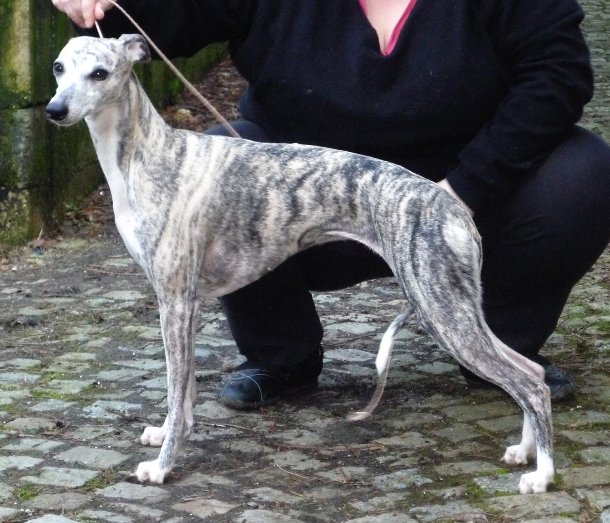 For the "French Champion" and to admitted as a studdog whippets have to fulfil different requirements than in Germany. Where are the differences?
Yes there are differences. The first thing is that in France puppies born from Pedigree dogs don't have a full pedigree, they have a provisory pedigree named "Certificat de Naissance" (Birth certificate). After the age of one year they have to be examined by an official judge. If they pass the exam then they will get their full pedigree.
The things that can make a dog fail is:
smaller or mostly bigger size (the tolerance is the standard +/- 2 cm so 42 to 49 cm
for a bitch and 45 to 53 for a dog).
problem of bite (over or undershot)
severe skeletton or balance fault
blue eye
for the male lack of testicule(s)
terrified or agressive behavior
But this maybe looks more or less like "the authority to breed" you have in Germany doesn't it ? After that the Société Centrale Canine (French Kennel Club) has a policy to developp the breed specific skills so we do have a cotation from 1 to 6 made by the French Whippet Club that people can use if they wish while choosing a stud dog.
It goes like this:
| | |
| --- | --- |
| 1 points | the dog is just "confirmed" |
| 2 points | for a confirmed dog who has had at least a Very Good at a show + has his racing or lure coursing license |
| 3 points | for a dog who has had an Excellent at a Special Whippet Show or at the French Specialty or at the French Championshipshow + at least a Very Good at either racing or lure coursing OR a Very Good at a show + an Excellent at a working Special Whippet or French Championship. |
| 4 points | is for "Recommended" dogs, to sum up as this quite long, the dogs must have had excellent results both at shows and at racing and/or coursing and he or she must also be genetically identified |
| 5 points | also called Elite B is for stud dogs or brood bitches who have produced at least 3 "recommanded" progeny in at least 2 different litters and he/she must be genetically identified |
| 6 points | also called Elite A is the same as Elite B but the stud dog is himself or the brood bitch is herself "Recommended" |
This is the result of a long lasting politic of the French Whippet Club who is aiming for years to select on what they call "Beau et Bon" (Good & Beautiful) and this also explains the big difference between France and most of the other countries to get the National title. Not only you must get the CAC at the French Championship Show (all breed) or at the French Specialty both held once a year, you must also win a CAC at what we call a "Special Whippet" (an allbreed show selected in advance by the Whippet Club and they choose the judge) which are held maybe 6 times a year BUT you must also have your dog working licensed AND he/she must compete in an official competition and get at least a Very Good! I think this very unique system makes it one of the most difficult title to get.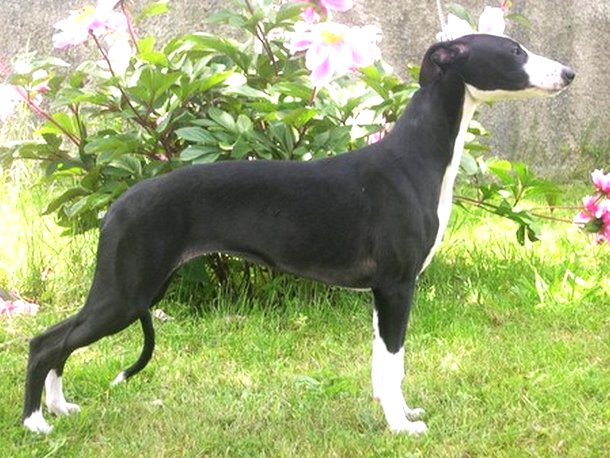 It is obvious that most of the french breeders are mainly concentrating on european bloodlines. Would you say, that french breeders are partly immun against the influence of the US-american whippets? (please tell me if my impression is wrong!)
Well in fact I think you are wrong !! We have had several american imports to France that have been heavily bred: the dogs Multi Ch Paris Panther, DK Ch. Normandy Social Standing, Summit Alliance. The bitch Ch. Bohem Adam's Rib owned by Jackie Bourdin has produced also some popular stud dogs. One of her daughters bred to the all american bred Italian Import Ch. Sobresalto Swing Reign (by USA Ch Starline's Reign On by AI) gave 3 boys that have had some nice successes in France. The younger we have at the moment is in fact a litter brother of a young american bitch you have in Germany, he is Karasar's Jaama Quicktime, owned by Michèle Chonac.
Although I don't fully agree with your impression I understand what you mean. We do have much less US Imports than you do in Germany, I don't think it has something to do with being partly immune I think French people, and this is just my impression, go much easier to the "dog next door" than travelling 1000 km or more to get a foreign Stud dog … Lazy maybe ? I don't know. But wait and see I have the feeling things might change a bit in the future ;-).
For your next litter with Taraly Black is Beautiful you chose Collooney Move on Over. What made your decision for this dog?
To be really honest this choice came easy to me. Lola (Black Is Beautiful) is in my opinion a bit too much on the extreme side in several ways. Tyler (Move On Over) is a dog that I've always liked from pictures. He is very tighly bred on lines I do really like involving heavily Robbie (Love Supreme) being the result of a nephew to aunt mating. In this line from his Dad USA. Canadian Irish Ch Collooney Mountain Dew to his mum the lovely Irish Ch Collooney She's the One (Top Brood Bitch in the UK in 2010) (by the way looking very alike to my little Maya in my opinion, they are half siblings), to his grand dad UK and Irish Ch. Collooney He's the One (litter brother to She's the One and Top Stud Dog in the UK 2011) to their lovely classic dam UK and Irish Ch Collooney Silver Silas, all beautiful whippets, not extreme at all, very nice sized too and good moves with superb temperament.
Then have a look at Tyler's sisters: UK and Irish BIS Ch. Collooney Step Aside, UK Ch.Collooney Too Hot To Handle at Chapliegh, Collooney Hot Tottie, Collooney Some Like it Hot … All so EVEN! This is not by cheer luck you know. At the time I decided for him he had produced just one litter and I had the feeling he was a very strong stud dog, I mean he throws a lot of him in his puppies. Now that he has sired several litters it proved I was right. All litters so even and so … looking like him ! I finally got the chance to meet in flesh Tyler as well as some of his sisters and this made my decision even stronger. I have great expectations for that combination and I dream of a little black beauty to carry on my black line. Let's keep fingers crossed!
Thank you very much, Tamara, and good luck for your next litter!
A very sad edit: Today, just a few houres after this interview was published, Taraly Black is Beautiful died in an accident. She was attacked by two agressive dogs, tried to escape and was run over by a car. Tamara. I'm so sorry. I can't even find words to express it.